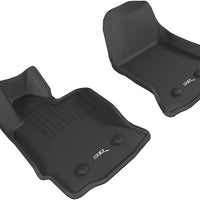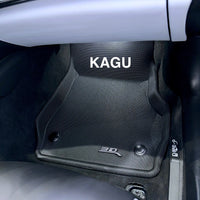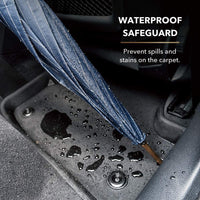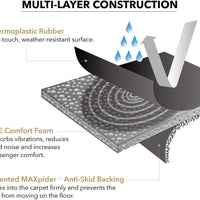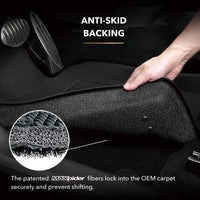 C8 Corvette 3D MAXpider KAGU All Weather Floor Mats - 2 Piece
Description
C8 Corvette 3D MAXpider KAGU All Weather Floor Mats - Black
Manufactured with locking C8 retention clips to insure a perfect location locking.
3D MAXpider floor mats provide an attractive style not found in other all-weather mats. MAXpider floor mats will enhance the look of your C8s's interior, while at the same time, providing peace of mind knowing that when spills happen, and dirt, snow, water, and salt are tracked onto your Corvette floor – no damage will be done.
Unlike traditional floor liners that have an industrial hard plastic look; 3D MAXpider textured all-weather floor liners have a durable, rubberized appearance and are pleasing to the eye. Because of the textured finish, your feet rest on an anti-slip surface – not slick like other floor liners, which is especially advantageous when your shoes are wet.  
 Exact Fit - Protects Flooring- Easy to Clean
MAXpider three-dimensional floor liners fit the contours of your Corvette exactly for a professional-looking fit. Edges are raised to provide maximum coverage and protection for your Corvette.
Spills are trapped and can be easily rinsed off with water. Since MAXpider liners are not heavy they are easier to remove for cleaning than other floor liners.
3-Layer Purposeful Construction:
The top layer is made from Thermoplastic textured waterproof Rubber. The middle XPE layer reduces foot fatigue & provides a barrier to road noise. The bottom layer material is slip-resistant, keeping liners in place without sliding around. (No Grommets or Hooks are needed for Driver's Side Liner.)
Note: RPM is an official distributor of 3D MAXpider. We sell at the lowest allowable price and we ship from Southern California.


Eco-Friendly with Odorless proof Made by SGS certified material, all 3D MAXpider mats are completely non-toxic and odorless.

Manufactured with non-toxic material

Material: TPR+XPE+MAXpider
Color: Black
Shipping is as Follows: Contiguous USA - $30, Non-Contiguous - $50, Canada - $50, Rest of the World - $100


Shipping
Shipping is as Follows: Contiguous USA - $30, Non Contiguous - $50, Canada - $50, Rest of the World - $100