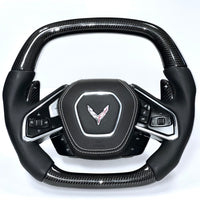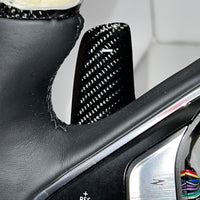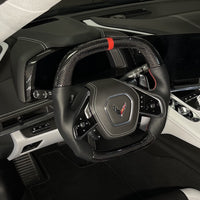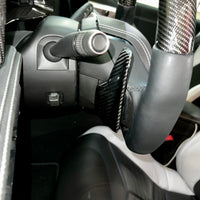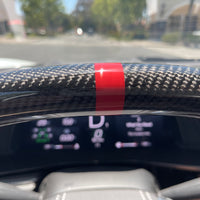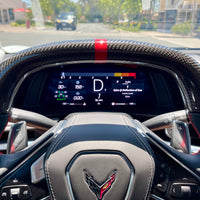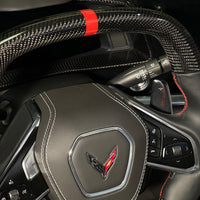 C8 Corvette Full Carbon Fiber Steering Wheel
Description
Thanks for looking at our upgraded GM Stock Carbon Fiber Steering Wheel.
These fantastic carbon fiber molded steering wheels are the best you can buy. You get a beautiful Glossy carbon fiber finish. We make our leather handles out of super soft Napa Leather imported from Milan Italy.  
We use the best hand laid dry molded carbon fiber providing the deepest 3D look. We simply remove the stock leather handle cover along with the urethane under the surface, and then we build it up with carbon fiber after reshaping the wheels D shape to provide a sportier handle look and feel.  Then, we modify the perimeter of the steering wheel.  Afterwards, we vacuum form and mold the carbon fiber to the wheel core producing the best form and quality.  

Pricing:    
These start at only $1,199 and we offer other free options and paid options below.  This price includes returning your original stock steering wheel, or you can keep it by paying $600. Once you place this item in your shopping cart the price will be reduced to $1,199 plus the deposit. There will be a $600 refundable deposit collected, but once you send back your stock wheel we will refund this.

Shipping:  is free in the USA and we pay the returned shipping as well with our prepaid label we will include when we ship out your order.
Free Options:
HANDLES:   We normally make the leather handles in smooth black leather. However if you perforated leather or black alcantara just let us know after you order if you want anything other then smooth black leather.  We make these to order and changes are easy for us.
RACING STRIPE:  We provide free racking stripe located on the top of the carbon fiber section as show in the photos, just let us know your color of preference.  
LEATHER STITCHING:  Standard stitching is black to match the black leather, but we can make the stitching any color you want.  Many chose a stitching color stripe to match interior color or a racing stripe.  Just let us know. 
RESTOCKING FEES ON CUSTOMIZATION:
The Colored Stitching and embedded top racing stripe take longer for production. Given these are custom features, it makes it difficult for us to sell them to other customers.  As a result, we charge a restocking fee of 25% if you cancel or return your order. 
Extra Charge Options:   

Heated Leather Handles:   We are offering heated leather handles now.  We will use the stock GM heated thermostat found in the new wheel we will be shipping you, but your C8 has to have the heated function on your build sheet.  Some accessory packages like LT1 may not have a heated option for the steering wheel, so please make sure your stock steering wheel is heated or the one we ship will not heat up.

Carbon Fiber Paddle Shifters:  We provide as an option to include and install upgraded Carbon Fiber shifting panels for $200.  We take chrome plated plastic paddles off the wheel and we mold carbon overlay to each panel.  As shown in the photos in glossy carbon fiber.
Installation Information
Self-installation takes less than 20 minutes.

In our installation video, we teach you how to remove the steering wheel from the column and how to remove the switches, and then how to put both back in the wheel your order from us. You will love this steering wheel upgrade. Check out our video to learn more and to see how easily it installs.

Outside the continental USA, shipping is more. Extra to Canada, Hawaii or anywhere else. Please email us with your address so we can calculate your shipping before you order if you are not in the continental USA.
Maintenance
CLEANING and SEALANT:
For both black leather handles, we recommend using mild soap and water to clean the carbon fiber and the leather handles. Leather conditioner is recommended as leather can dry out, and something like mild baby wipes will clean your steering wheel, but to increase longevity, we recommend using a leather sealant to protect the leather or even a nanoceramic leather treatment like Ceramic Pro. We use Ceramic Pro 9H to seal the black seats in many customers' cars and we use the leather Ceramic Pro treatment on steering wheel leather as well.