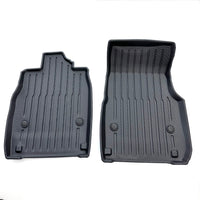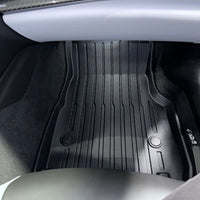 C8 Corvette Full Length All Weather Floor Mats (Longer Style)- 2 Piece
Description
C8 Corvette All Weather Floor Mats - Black
This is our cheaper option. We offer Authentic 3D MaxSpider Floor Mats for a greater price. Although, we believe these floor mats fit, function, and feel nearly identical.
Manufactured with locking C8 retention clips to insure a perfect location locking.
These full-length floor mats provide an attractive style not found in other all-weather mats. Floor mats will enhance the look of your C8's interior, while at the same time, providing peace of mind knowing that when spills happen, and dirt, snow, water, and salt are tracked onto your Corvette's floor – no damage will be done.
Unlike traditional floor liners that have an industrial hard plastic look, these all-weather floor liners have a durable, rubberized appearance and are pleasing to the eye. Because of the textured finish, your feet rest on an anti-slip surface – not slick like other floor liners, which is especially advantageous when your shoes are wet.  
Manufactured with non-toxic material

Material: TPR+XPE
Color: Black
Shipping is as Follows: Contiguous USA - $30, Non-Contiguous - $50, Canada - $50, Rest of the World - $100


Compatibility
2020 & Newer C-8 Corvettes & Z06
Shipping
Shipping is as Follows: Contiguous USA - $30, Non-Contiguous - $50, Canada - $50, Rest of the World - $100