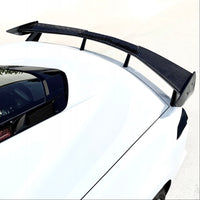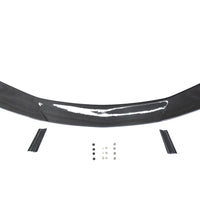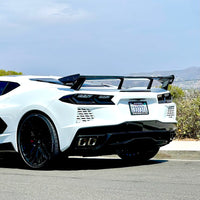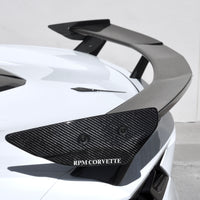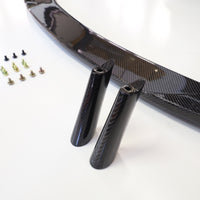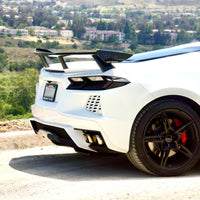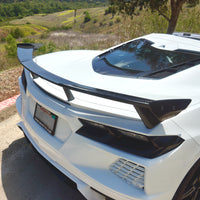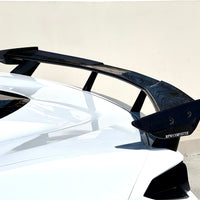 Corvette C8 Full Carbon Fiber High-Rise Spoiler
Description
Our Corvette C8 FULL Glossy Carbon Fiber Spoiler is made from Real 100% Molded Carbon Fiber. The entire spoiler has a visible twill weave, including the stands, side pieces, and all other surfaces. The weave pattern runs from the center outwards to match our carbon fiber hood and front lip spoilers.
We designed this spoiler to not alter the aerodynamics of the OE design "high-Rise" spoiler. In doing so, nearly 2 pounds of weight is reduced and a beautiful carbon fiber look is achieved.
This spoiler is not hydro dipped or made from cheap prepreg carbon fiber. It is 100% genuine molded carbon fiber, which is hand-laid woven carbon fiber with no fiberglass or any other plastic add-ins. This spoiler is FULL DRY MOLDED, designed for weight reduction, and it is not top layer carbon only, like some of our competitors.
Installation: 
Removal of the bumper is needed to install this spoiler, but not the rear wheels. A lift of some kind is needed.  Installation takes 1.5 to 2 hours and assembly is very simple.  We have a video below that explains everything we include and how it all connects.
Installation Information
As shown in the video, you will have to remove the rear bumper to install this spoiler. All C8 spoilers that are mounted on the rear bumper require bumper removal. Please follow all instructions provided in the video for removal and installation. The process can be quite intimidating however, with a basic toolset it is certainly achievable. We do recommend that this spoiler is professionally installed, although installation can be done in less than 2 hours.

Please watch our video below to learn more about installation.
Warranty
UV WARRANTY:
Our spoilers are coated with 3 coats of UV Protection. Over time without proper care from waxing or applying a nano-ceramic coating, this protection can be worn off. The warranty is limited to only 1 year, and slight yellowing is normal for carbon fiber when parked outside in direct sunlight. To extend the life of your spoiler, we recommend using a detail spray that enhances the UV protection. Also, Ceramic coatings will assist with UV protection, and we recommend Ceramic Pro.