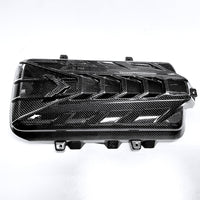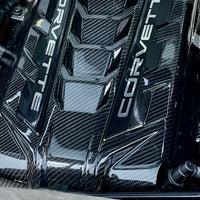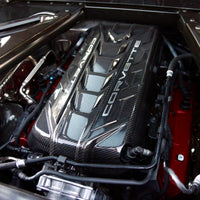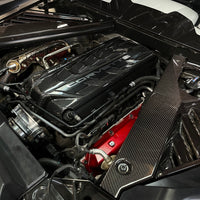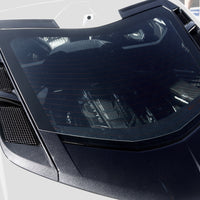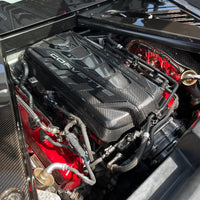 Corvette C8 Engine Cover - Real Molded Carbon Fiber
Description
Corvette C8 Engine Cover Made from REAL Carbon Fiber
Our engine cover is made from 100% REAL carbon fiber and comes in a glossy finish. The cover is a direct replacement for the OEM cover and has a beautiful glossy clear coat finish. Fits all non-convertible C8 models. Made from 3K 2x2 twill carbon fiber. The finish and quality are exceptional, as shown in our photos.

We also have the Corvette rectangular emblems if you do not want to remove your stock one as shown in our installtion video, and we show you how to remove the stock plastic CORVETTE emblems if you want to make the cover look more OEM as we have in our installed videos.
Installation Video
Installation Information
Very simple, just unbolt the existing bolts used on the OEM cover. Remove the clips that are holding the lines to the cover. Finally, place your new cover on the engine, screw in the four bolts, and connect the clips.
https://youtu.be/VBzedZmu1tk
Warranty
UV WARRANTY:
All of our carbon fiber products are coated with 3 coats of UV Protection. Over time without proper care from waxing or applying a nano-ceramic coating, this protection can be worn off. The warranty is limited to only 1 year, and slight yellowing is normal for carbon fiber when parked outside in direct sunlight or heat. To extend the life of your item, we recommend using a detail spray that enhances UV protection. Also, Ceramic coatings will assist with UV protection, and we recommend Ceramic Pro.