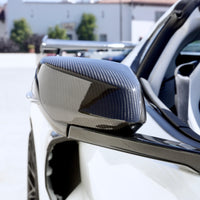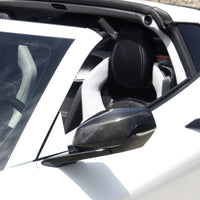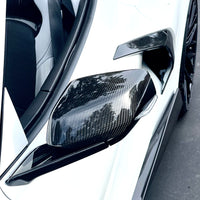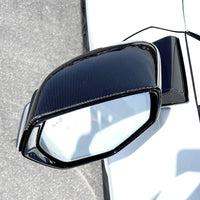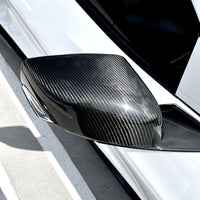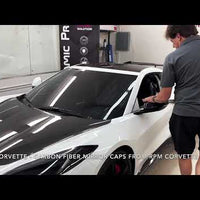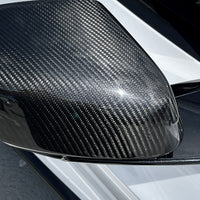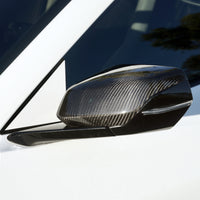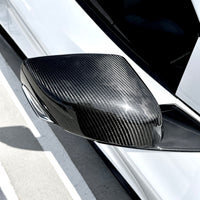 Corvette C8 Mirror Cap Overlays Real Carbon Fiber (1 Pair)
Description
Please watch our installation video before ordering.
New for Corvette C8 - 100% Real Carbon Fiber Sideview Mirror Cap Overlays

Want to add an OE carbon fiber accent to your side-view mirrors? This is it! Our newest FULL Carbon Fiber Mirror Caps are a direct fit. They are made with 100% Real Dry Molded Carbon Fiber and we offer them in a Glossy Finish. These do not interfere with any antennas or mirror folding. They slide right over your original painted skull top and add that perfect, beautiful carbon fiber look!

The same size as the GM stock covers but you save $800

Installation
Installation Information
Just wet down with alcohol, peel off the double-sided 3M Tape and slide it right over the cap. A perfect fit with all of the skull caps replaced. The rolled leading edge of your cap is completely covered.
https://www.youtube.com/watch?v=A_ltWi1meic
Warranty
UV WARRANTY: Our mirror caps are coated with 3 coats of UV Protection. Over time without proper care from waxing or applying a nano-ceramic coating, this protection can be worn off.

The warranty is limited to only 1 year, and slight yellowing is normal for carbon fiber when parked outside in direct sunlight. To extend the life of your mirror caps we recommend using a detail spray that enhances UV protection. Also, Ceramic coatings will assist with UV protection, and we recommend Ceramic Pro.