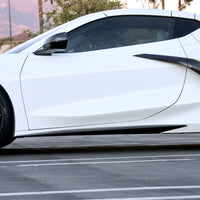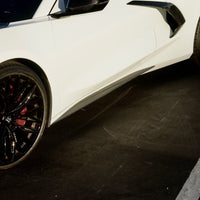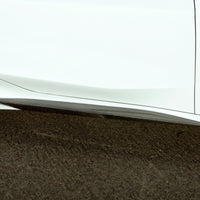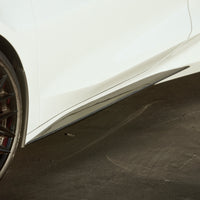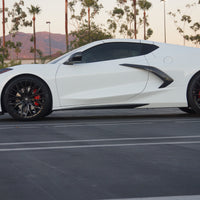 Corvette C8 Standard Size Side Skirt Overlays - Real Carbon Fiber
Description
Corvette C8 Standard Size Side Skirts
Our Corvette C8 FULL Standard Size Side Skirts are made from Real 100% Molded Carbon Fiber.

Ad a great carbon fiber overlay to your standard rocker panels with these beautiful side skirts.

Our Side Skirts Overlays fit directly over your stock extended rocker panels. They fit right in place and are held on with 3M double-sided tape and 4 self-tapping screws under the rocker panel.

They are made from 100% genuine molded carbon fiber, which is hand-laid woven carbon fiber with no fiberglass or any other plastic add-ins. They are FULL DRY MOLDED, designed for style, and it is not top layer carbon only, as some of our competitors. All carbon fiber, no paint, no carbon fiber look.
Installation Information
With your side skirts, we have included self tapping screws and rivets in case you do not have stock threaded holes under the rocker panels. Some C8's only have paint matching extensions and others have plastic cap covers which are already predrilled. When you install them, be sure to clean the top of the stock painted matching side skirts with rubbing alcohol. To install our side skirts, please remove the red backing tape liner from the double sided tape that we have pre installed on the back of the upper side. Then spray your side skirts on top with more alcohol, so our carbon side skirts will slide in to place without scratching your paint. Then you just press them on, and screw them in place under the car with the self tapping screws, or rivets, or you can use the stock screws and holes if your C8 has the plastic covers over the stock side skirts.
Warranty
UV WARRANTY: Our side skirts are coated with 3 coats of UV Protection. Over time without proper care from waxing or applying a nano-ceramic coating, this protection can be worn off. The warranty is limited to only 1 year, and slight yellowing is normal for carbon fiber when parked outside in direct sunlight. To extend the life of our side skirts, we recommend using a detail spray that enhances UV protection. Also, Ceramic coatings will assist with UV protection, and we recommend Ceramic Pro.