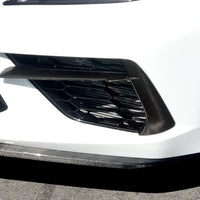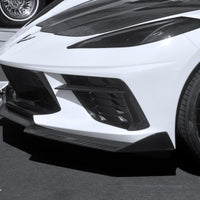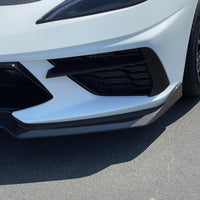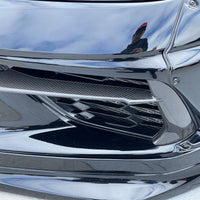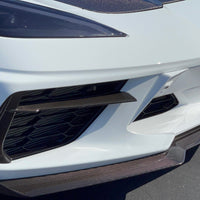 Corvette C8 Front Bumper Carbon Fiber Canards (1 Pair)
Description
Upgrade your front bumper canards with these real molded carbon fiber replacements.  These are hand laid carbon fiber and install as fast as you remove the 4 screws holding on your color matching painted ones.  
GM's color matching stock version, or carbon painted upgrade, just does not set off the air inlet for your 2 radiators.  
Our Carbon Fiber Side Air Vent Inlets are made from the best carbon fiber and they are the easiest to install.  No disassembly of bumper is required, these install in 30 minutes.
Installation Information
DESIGN and EASE of Installation:
The rear fender V-shaped is made from real molded carbon fiber and it is a replacement part. We molded the OEM matching studs into our part and installing it only requires the removal of 4 stock nuts, inserting our piece, and then putting the stock OEM nuts back on. Very simple. Please watch our installation video to learn how easy this is.

For the door handle piece, we understood the complexity of a full replacement part and the potential to void your warranty on your door handle mechanism assembly. So we designed this item as a carbon fiber overlay or a cap that installs in minutes and is held on with 3M Double Sided Tape. It lines up perfectly with the V-shaped fender part as shown in our photos.
Warranty
UV Warranty:
Our carbon fiber products are coated with 3 coats of UV Protection. Over time and without proper care from waxing or applying a nano-ceramic coating this protection can be worn off. The UV warranty is limited to only 1 year, and slight yellowing is normal for carbon fiber when parked outside in direct sunlight. To extend the life of the UV coating, we recommend using a detail spray that enhances UV protection. Also, Ceramic coatings will assist with UV protection, and we recommend Ceramic Pro.